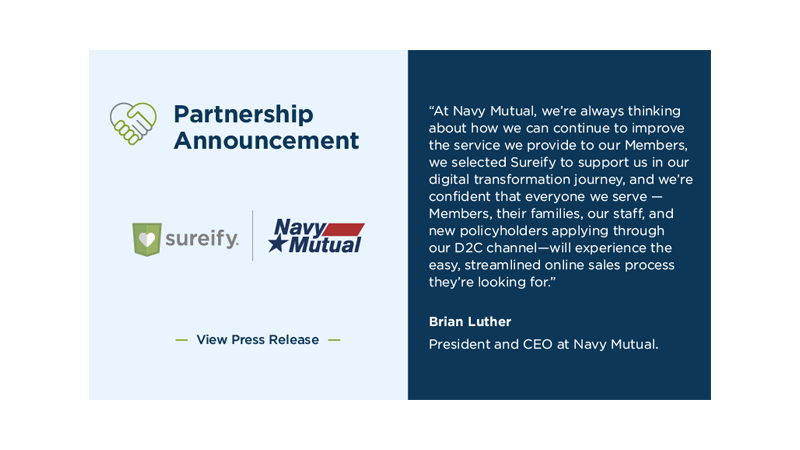 Navy Mutual Selects Sureify To Transform Its Electronic Application Experience
By By Lori Zinaich - 14 September 2023
Life insurer and insurtech leader join forces to optimize the service members and agents receive throughout the application and sales process.
SAN JOSÉ, Calif., September 14, 2023 — Navy Mutual Aid Association ("Navy Mutual"), the nation's oldest federally recognized Veterans Service Organization, recently selected insurtech leader Sureify to shepherd the transformation of its electronic application experience. Through the  partnership and technology implementation, the two companies have enhanced and streamlined Navy Mutual's application process across the company's agent and direct-to-consumer (D2C) channels—improving on the outstanding service the insurer has long provided for its members and agents.
Because of its strong focus on service, the Navy Mutual team already knew the importance of providing personalized interactions to each individual member throughout the entire buying process. By replacing their current electronic application system with LifetimeACQUIRE, Sureify's configurable eApp, Navy Mutual is now able to deliver an omnichannel sales experience—across D2C and agent distribution channels—that gives members the ability to move from quoting to eDelivery using an integrated platform approach.
The implementation of LifetimeACQUIRE has given Navy Mutual the truly transformed sales process for members—from beginning to end—made possible through Sureify's slick front-end UX, state-of-the-art functionality (like application cloning, data pre-fills, automated/accelerated underwriting, and reflexive questioning), and access to a robust ecosystem of partners.