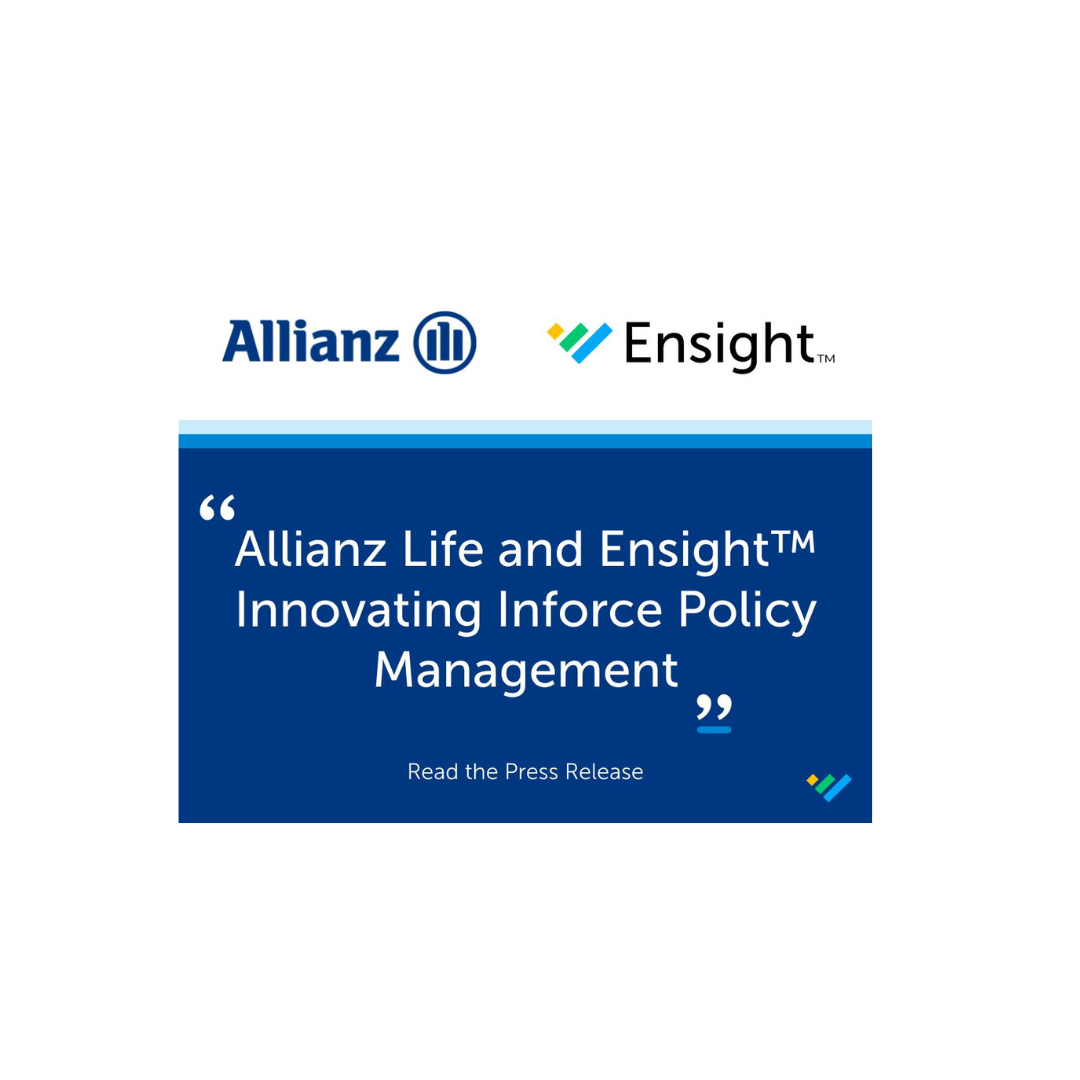 Allianz Life and Ensight™ Innovating Inforce Policy Management
By - 6 March 2023
New My PolicyPro inforce experience brings policy servicing to a modern "client-centric" level
Originally by: Ensight
My PolicyPro, a new market-leading inforce policy servicing digital experience developed in partnership with Ensight™, was released today on Allianz Life Insurance Company of North America (Allianz Life) inforce Fixed Indexed Universal Life (FIUL) policies. My PolicyPro will help drive better management of policies for stronger client financial outcomes.
With the introduction of My PolicyPro, an interactive tool powered by the Ensight technology platform, financial professionals, and clients can now monitor their inforce policy values and other policy information as easily as they check their bank accounts. Ensight™ is a leading Life, Annuity and LTC digital experience platform in the United States. The powerful tool offers anytime, anywhere access to policy goals, values, and features, providing an extensive view of policy performance over time.
"The My PolicyPro experience will enable financial professionals and clients to make more informed decisions about their insurance policies and achieve their financial goals," said Jason Wellmann, senior vice president of life insurance distribution, Allianz Life. "This is part of our commitment to use fintech innovations to make the process of managing a life insurance policy easier for everyone."
With My PolicyPro, financial professionals and clients will be able to review:
-Policy values as of their most current annual statement, and, overtime, how policy values change year-over-year
-How their current policy values are allocated
-Descriptions of the riders available
-Annual policy activity including premium paid, charges, and credits
"We are thrilled to partner with Allianz Life to help transform the inforce client servicing experience," said Bill Unrue, CEO of Ensight. "My PolicyPro is a game-changer for the life insurance industry and will provide advisors, producers, and clients with greater visibility and control over their policies, as well as aiding stronger retirement planning."
My PolicyPro is now available to financial professionals who are appointed with Allianz Life and clients who own certain products. The tool is accessed through their online account with Allianz Life.
Allianz Life Insurance Company of North America is not affiliated with Ensight or My PolicyPro.
Guarantees are backed by the financial strength and claims-paying ability of Allianz Life Insurance Company of North America.
Products are issued by Allianz Life Insurance Company of North America.
About Allianz Life Insurance Company of North America
Allianz Life Insurance Company of North America, one of the FORTUNE 100 Best Companies to Work For® and one of the Ethisphere World's Most Ethical Companies®, has been keeping its promises since 1896 by helping Americans achieve their retirement income and protection goals with a variety of annuity and life insurance products. In 2021, Allianz Life provided additional value to its policyholders via distributions of more than $10.6 billion. As a leading provider of fixed index annuities, registered index-linked annuities and fixed index universal life insurance, Allianz Life is part of Allianz SE, a global leader in the financial services industry with approximately 150,000 employees in more than 70 countries. Allianz Life is a proud sponsor of Allianz Field® in St. Paul, Minnesota, home of Major League Soccer's Minnesota United.
About Ensight™
Ensight™ is the leading cloud-based insurance sales acceleration platform for more than 600 life, long-term care (LTC) and annuity distributors, thousands of financial professionals, as well as many of the largest North American insurance carriers. Headquartered in San Diego, California, Ensight helps drive sales growth and productivity, while addressing the entire sales lifecycle experience – from prospect to policyholder, new business to inforce.
To learn more about Ensight, visit https://www.ensightcloud.com/