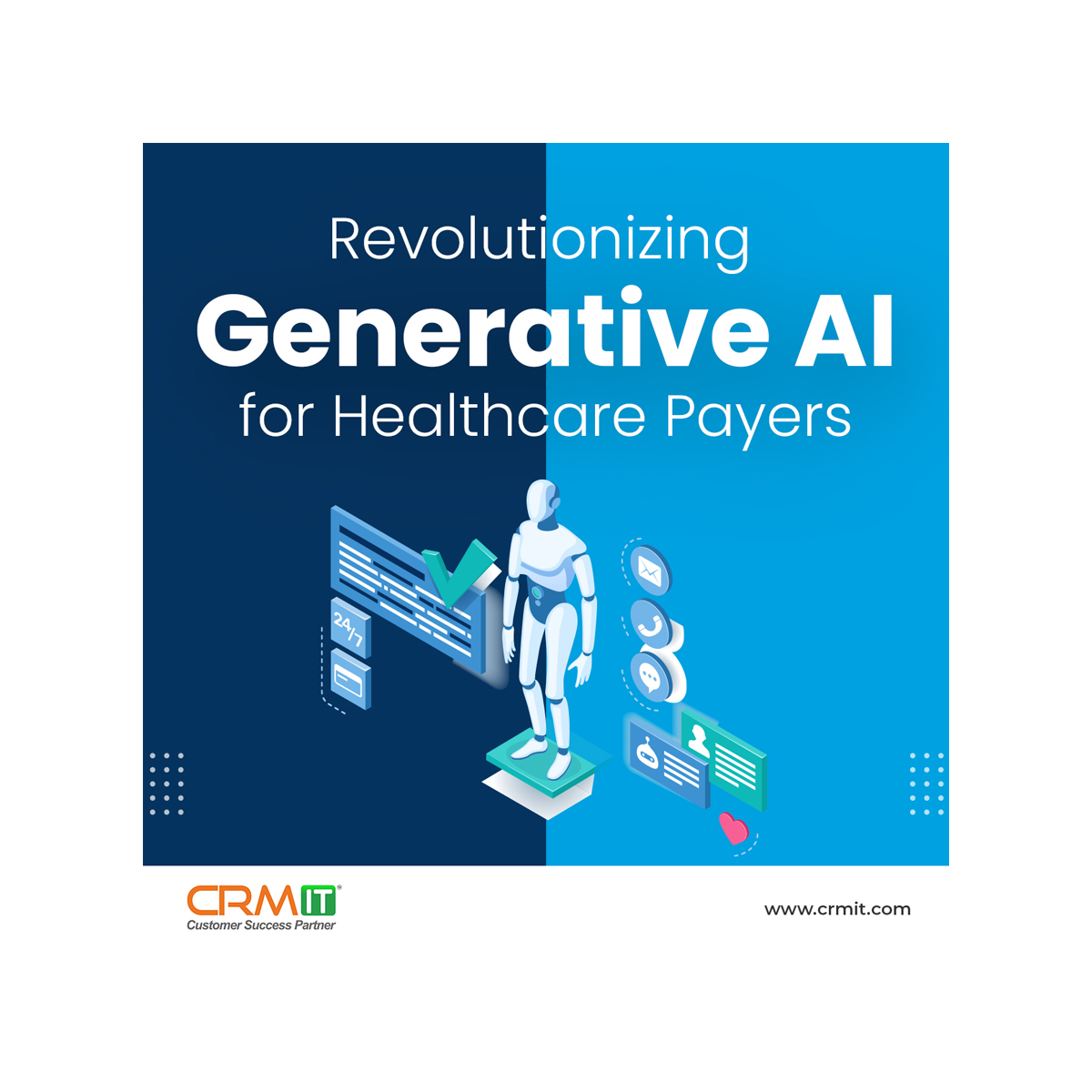 CRMIT Solutions Partners with OpenEnterprise.AI to Revolutionize Generative AI for Healthcare Payers
By CRMIT Solutions - 13 September 2023
San Francisco, CA – September 12, 2023 — CRMIT Solutions, a global leader in technology solutions and digital transformation, today announced a game-changing partnership with OpenEnterprise.AI, aimed at reshaping the healthcare payers landscape through the power of Generative AI.
Generative-AI-in-Healthcare
With the global healthcare sector seeking ever-new ways to stay competitive and align with evolving patient and member expectations, technology has become the driving force behind transformation. The core objective of Generative AI is to deliver swift improvements by optimizing existing processes, leveraging current data, and fostering a culture of innovation while keeping customers at the heart of it all. McKinsey reportedly estimates that Generative AI for insurance offers new revenue opportunities worth over a $ 1 trillion.
"Our strategic collaborations with technology leaders like CRMIT Solutions position us as the trusted partner of choice for top-tier healthcare insurers, enabling the responsible and scalable adoption of Generative AI solutions" explained Ram Reddy, Co-Founder at OpenEnterprise.AI.
CRMIT Solutions' strategic alliance with OpenEnterprise.AI marks a significant milestone in the healthcare payer market. This collaboration promises customers and members swifter submissions to healthcare payers, accelerated underwriting assessments, and an enhanced alignment between carriers and clients. This synergy is expected to result in a notable rise in the number of applications processed per full-time equivalent (FTE) staff, transforming the healthcare payer landscape.
The partnership announcement was made against the backdrop of Dreamforce 2023, the world's premier tech event. Dreamforce is an annual event that brings together the global Salesforce community for learning, fun, community building, and philanthropy.
"Our commitment to our customers drives our continuous pursuit of innovation. The inclusion of AI and data-driven strategies is a pivotal step in this direction." said Vinod Reddy, CEO at CRMIT Solutions. "We are piloting multiple generative AI and decision science solutions as part of the company's focus on leveling up our decision intelligence goals and ASVP offerings" added Vinod.
CRMIT Solutions had recently announced plans to continue its growth trajectory with by ushering in the 2023 cohort of AI and data-focused talent pools, reinforcing its commitment to providing next-gen CRM and digital transformation solutions.
CRMIT Solutions invites Managing General Agent (MGA) and Managing General Underwriter (MGU) in Insurance, to explore their Generative AI solutions and embark on a transformation journey that leads to enduring success. For more information about CRMIT Solutions and its transformative services, please visit www.crmit.com
About CRMIT Solutions
CRMIT Solutions is a pioneer CRM Solutions Provider focusing on Salesforce digital transformation & decision intelligence solutions powered by Customer360++ (a proprietary AI and decision science framework). Customer360++ is a cutting-edge digital transformation framework designed to elevate your CRM from a Minimum Viable Product (MVP) to a Maximum Value Platform (MVP).
About OpenEnterprise.AI
OpenEnterprise.ai is a groundbreaking platform for industry-specific data applications combining data and artificial intelligence with existing process automation solutions, providing greater enterprise business value. Solutions empower employees, partners, and customers with data-driven insights and hyper-personalization to transform and enhance business processes. OpenEnterprise.ai is focused on improving outcomes for companies of all sizes in Healthcare, Financial Services, Telecommunications, and Media and Entertainment. For more information, please visit openenterprise.ai