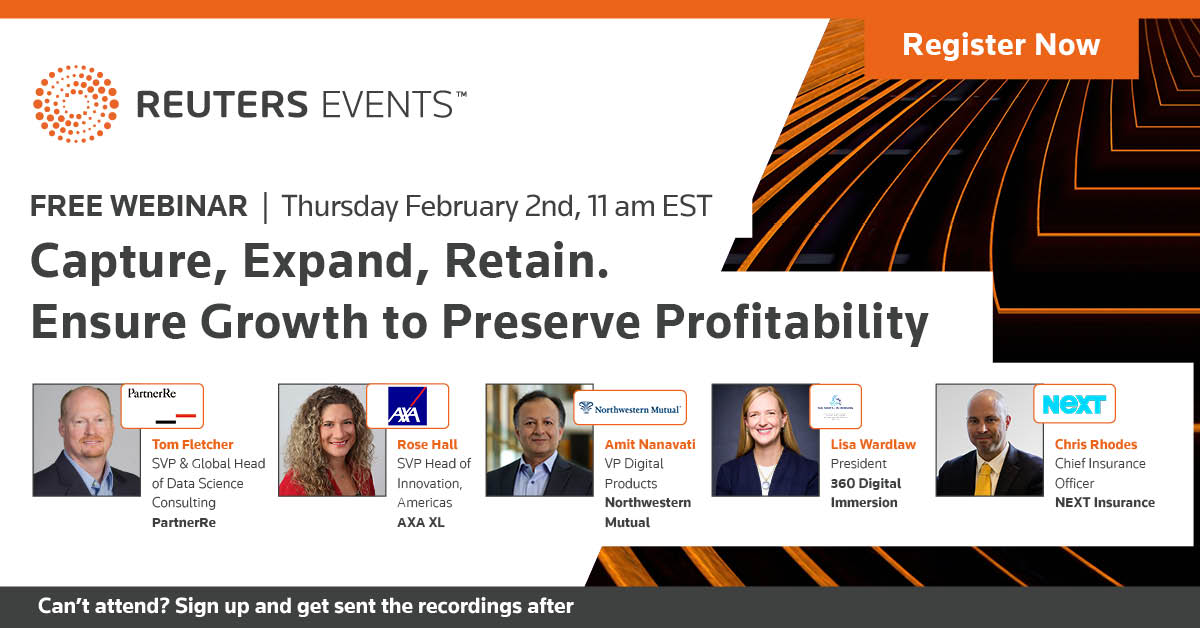 AXA XL, NEXT, Northwestern Mutual, and PartnerRe on unlocking data and tech to drive customer loyalty.
31 January 2023

It is nine times more expensive for carriers to attract new customers than it is to retain existing ones. With more fierce competition than ever before – following an invasion of insurtechs – retaining customers has never been more important.
How can carriers protect their market share from this influx of new players in the insurance industry? Success lies within your deployment of data and tech.
Reuters Events on February 2 (11:00 – 12:00 EST) are hosting a free webinar to answer how carriers can do just that.
Join us live or have the recording sent straight to your inbox – sign up today
Our C-Suite, SVP, and VP panel answering your most pressing questions:
Chief Insurance Officer, NEXT Insurance)
Rose Hall (SVP Head of Innovation Americas, AXA XL)
Amit Nanavati (VP Digital Products, Northwestern Mutual)
Tom Fletcher (SVP, Global Head of Data Science Consulting, PartnerRe)
Don't worry if you can't join us live, sign up and we'll send the webinar recording round to all registrants.
Don't miss these leaders critical case studies – sign up now
Drive Loyalty and growth like never before!
InsurTech Express On Behalf of Reuters Events