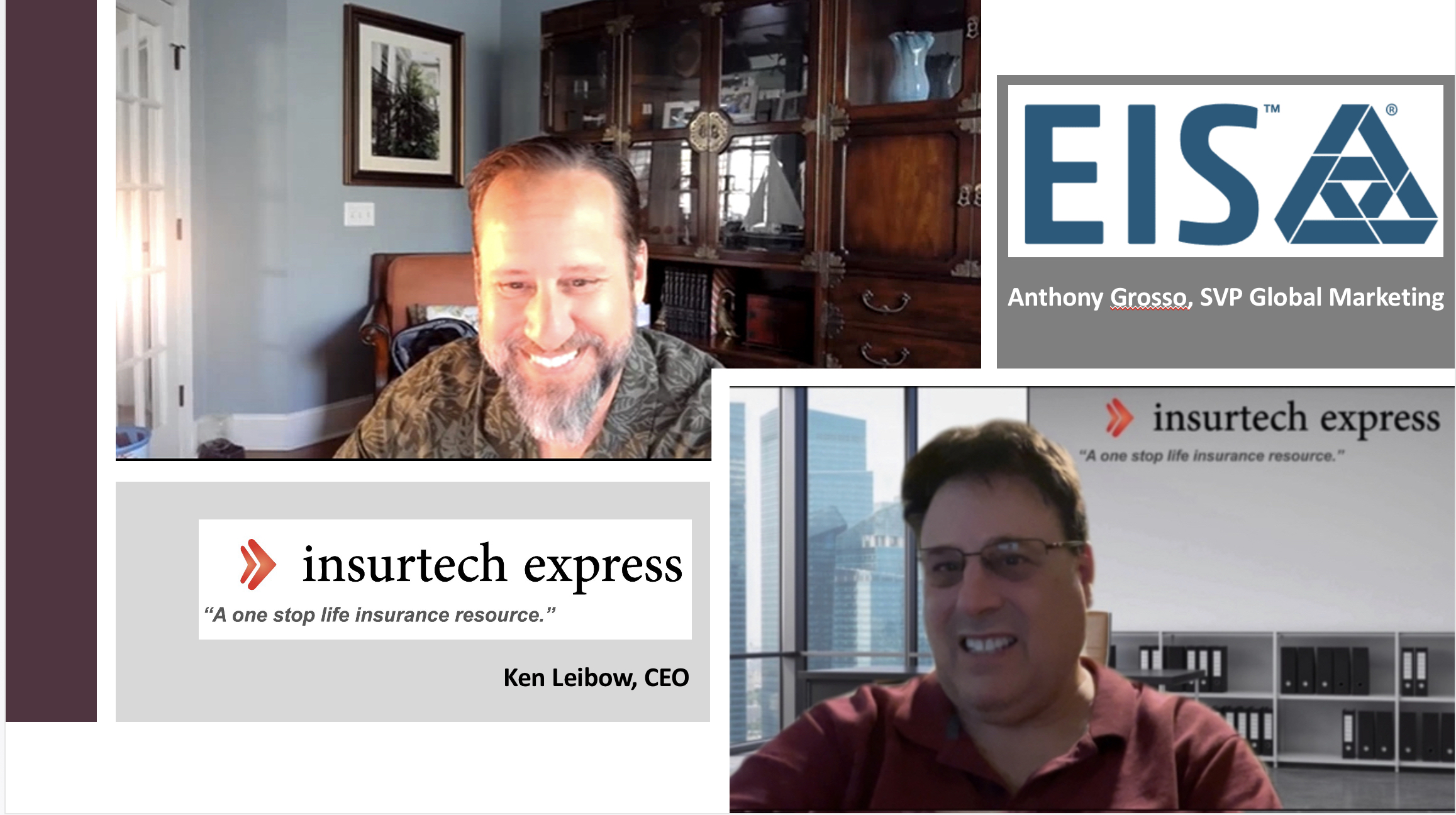 EIS' innovative insurance platform accelerates tech transformation in the insurance industry: Interview with Anthony Grosso, SVP Global Marketing
21 July 2021
Interview by Ken Leibow, CEO at InsurTech Express
I had the opportunity to meet with Anthony 'Tony' Grosso, SVP of Global Marketing and Communications at EIS. There has been a lot of buzz about EIS with the announcement back in June of EIS receiving a growth investment of more than $100 million from TPG, a global alternative asset firm. EIS is a core and digital platform provider for insurers. The EIS Suite help insurers to accelerate and scale innovation, launch products faster, deliver new revenue channels, and create powerful customer experiences. With thousands of open APIs, the EIS platform gives insurers across all lines of business the freedom to connect to—or serve as a hub for—a vast ecosystem of insurtech and emerging technologies.
The interview was conducted virtually over Zoom hosted by Harden Communications Partners. The answers below have been paraphrased for clarity and context.
What is going to be the impact of the TPG Capital Investment?
Our value proposition at EIS from the beginning was that we were going to build a platform for insurance that was line of business agnostic so that we could be customer centric – built around the customer not the product, and always on the best technology. The whole idea of being agnostic is not to be focused on personalized auto insurance or life insurance for example. Initially customers and analysts gave push back saying you should have focus on line of business. It wasn't well received until more recently. The investment by TPG is perfect timing because now we are building out all the lines of business: property & casualty, group voluntary benefits, life & annuities with healthcare and dental coming onboard as well. What's happening in the market now is that carriers are looking at customers as a channel and to be able to push multiple products to them not just the one product which they sell them today. It's starting – we are building out and need the capital to continue to develop our product functionality on the platform. The industry is changing at the right time and our philosophy is being validated by the market.
How has APIs helped your business?
We have 12,000 APIs which means that every function in our system can be exposed to the outside world. It allows carriers to build their own user experience. The client can build their own interface that is very specific to that Broker segment or employer population for the group and voluntary benefit space. It allows them to build out the user experience without having them build out the engine and functionality behind it. In today's changing world, they can focus on the user experience. EIS will focus on the nuts and bolts of insurance processing. The two match beautifully.
APIs have also been valuable to us because other vendors like Guidewire in the P&C space have these market places where they are pre-connected integrations to some document management system or other insurtech solutions. The market loves them because this integration is readily available through the APIs. Why do you need a market place? If you have open APIs, you should be able to choose what you want and implement it quickly in a matter of weeks. Analysts have have had some push back as to controlling who to integrate with. EIS's philosophy is that there is value in being open to integrating with everyone who wants to interface with our system.
Here is an example using a third party API. A large carrier customer wanted to integrate Facial Recognition software to use it for Life Insurance Underwriting. The proposed insured would take a selfie, and then would run it through the facial recognition algorithm to determine your BMI, your age, and life expectancy. This would factor in determining the premium. The carrier couldn't do the integration with their legacy systems after trying for at least 6 months. We asked the facial recognition software vendor for their API and the documentation to do the integration. EIS did it in 4 days as a Proof of Concept (POC). We said that if this is a good risk, then it would be better to use it to cross sell. For example, if the proposed insured was applying for Term Life Insurance and the facial recognition considered them a good risk, then we could cross sell critical illness or accidental insurance etc. The POC showed that the facial recognition could be better utilized cross selling other products. This is the power of the POC and the innovation using APIs.
What is your approach and how do you differentiate from your competitors?
When we went into Group and voluntary benefits we saw that as a window because it is a small market and highly disrupted form PCA "affordable care act". There really were no vendors in that space. We saw that as an opportunity to expand the business into a new market. Our view was that life and health were our ultimate destination, but it didn't disrupt as of yet. We were predicting back in 2017 that they would be disrupting in about 2020-2021 time frame based on consumer trends. We got into the group and voluntary space because they are adjacent markets to life and health. Group and Voluntary products have a good Segway into life and health. Our carrier customers also have life insurance divisions. This gives us credibility in the individual life space not being branded only experts on P&C. This was a problem at the beginning, but we grew to be the biggest company in the Group and Voluntary benefits space. So we don't have that stigma today for Life & Health, but maybe the opposite is true where we are not as well known on the P&C side today. It shifted in reverse ironically.
There is a big difference between us and some of our competitors because they may have 5 different platforms for different lines of business like Health, P&C and Life. Our competitors would therefore have different code bases and platforms whether developed separately at different times or through acquisitions. EIS has the same platform for all lines of business and products with the same functions. For us to enter a new market, we only have to do 20%-25% of the setup, leverage our proven platform and just focus on the deltas. There are some things we would have had to build for Life Insurance like we didn't have a cash accumulation component or loans processing because it wasn't needed in P&C or Group & Voluntary. Everything else like underwriting and claims is already there; we just have to tailor it for that specific market. We can hire a much smaller team that specialize in those domains. Policy Administration and Underwriting Workbench is part of the suite, but it's still on the same architecture and the same platform. We also have an illustration module, but for Life it is still under development. If a carrier preferred a third party illustration system, our API can easily be used for implementation. We are also building out portals to sit on top of the suite. Carriers can build out their own digital experience and use EIS's APIs, and that's the beauty of having APIs. We see our APIs also as a differentiator.
We are seeing from Carrier RFIs in the last 6-12 months that they want a SaaS based Cloud model with us hosting. Before carriers wanted to put it in their cloud where they manage the system. Almost all implementations are Dedicated not co-habitation. The management and deployment is streamlined making it much quicker and easier to setup. Many of our competitors who are some of the larger policy admin system vendors are like modern legacy systems. Descent systems but older architecture. They are not in the cloud and they will need to develop brand new platforms. The business model that was built 5-10 years ago was not the business model for the future. They are product centric not customer centric. They are designed to sell policies not designed for people who own policies. If a client had multiple policies with different lines of business, then you would see multiple records. The person is a component on the policy. The EIS platform has one customer record. The customer is at the center of what we do. People have policies like auto and life insurance. This is not fragmented like our competitors. You would see these policies on one customer record.
What is your position on Low Code/No Code?
We have a studio environment that rivals Unqork who is perceived the leader in no code. EIS wants to have out of the box content that is based on insurance for all lines of business, then give you the tool to do the finish work. This is a low code model, but comes to the table with the majority of the content that is needed. We are building an online web series called "Core Talk". This is a monthly show in educating the buyer on core technology. It's not advertising EIS, but it's educational marketing. The first episode is debunking the myth of no code technology.
Please visit EIS at: EIS
EIS product information will soon be added to the Solution pages at InsurTechExpress.com.