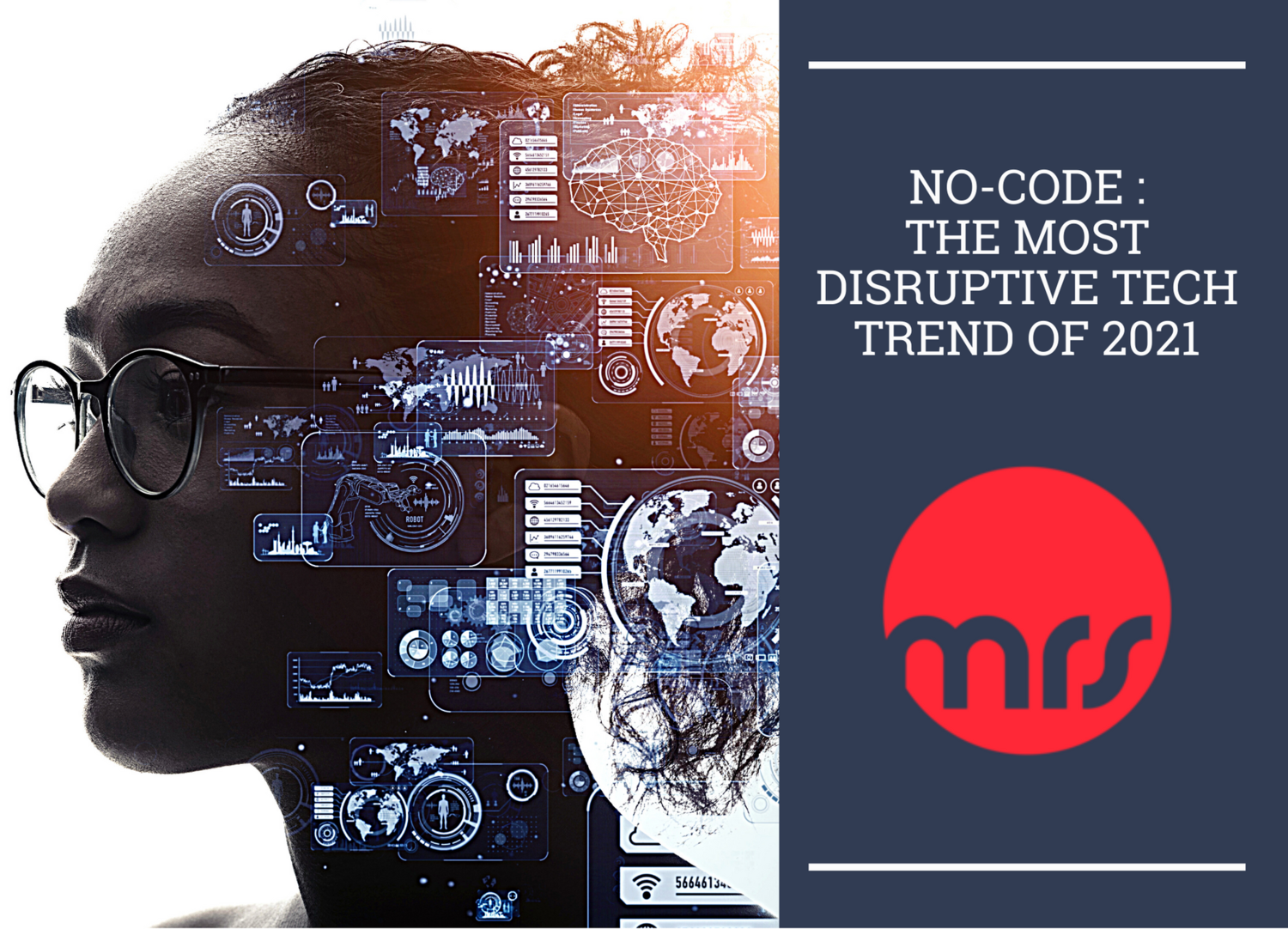 No-Code - The Most Disruptive Tech Trend Of 2021
28 May 2021
No-code: "The Most Disruptive Tech Trend of 2021"
At the end of last year, Forbes magazine predicted that no-code and low-code technology would be, "the most disruptive technology trend of 2021." Any talk of market disruption is bound to raise the blood pressure of business owners and policy makers, but unpacking the prediction makes it seem less bold, more like a forgone conclusion. Forbes states that within 3-5 years, 65% of product development will be done in-house and with low-code or no-code technology.
Three main factors surrounding software have contributed to the rise of no-code technologies. First, software and interfaces are embedded into countless aspects of everyday life: online food ordering, sending funds through Venmo, and ordering a ride with a smart phone. Businesses have come to rely on software heavily – a trend that escalated throughout the pandemic. Using software to do business is an expected norm for consumers, and comfort levels with technology are soaring.
Second is speed. We are impatient creatures, and the conveniences afforded to us through technology are welcomed. Gone are the days of waiting months for the arrival of the next software version or update. Notice that every time your phone's operating system updates all the apps update the next day – sometimes even in hours.
Third is cost. Many business applications are similar and hiring a programmer fluent in coding new software is enormously expensive. Insurance is a great example of a business that is perfect for no-code solutions. There are a finite number of situations that impact rates, premiums, and payouts. Even complicated underwriting scenarios can be built into software – the result is a low-cost, highly efficient system that can run circles around legacy methods that governed the industry for eons.
Combined, these factors make it easy to see why no-code and low-code programming solutions are bound to continue disrupting the technology marketplace. They fit with an increasingly tech-savvy culture, they satisfy our need for immediacy, and they keep costs down so that businesses remain competitive.
OK, but what does no-code do?
Using a no-code program means the user builds their program by choosing from a series of pre-programmed options. This means drop-down menus, drag-and-drop options, and filling in fields with business-specific words required for tailoring to each situation. The coding has already been done; the final work can be done by a non-coding lay person.
The programming term for what makes no-code work is "abstraction" – which means assembling pre-programmed sections of low-level code together as needed. A good analogy for abstraction could be the modern method of assembling a large building. Oftentimes, much of the building is assembled elsewhere, and then pieced together by the construction workers at the job site. Large walls, pieces of the roof, and complex pieces of hardware – all worked on by individual experts at separate locations before being shipped to the end user. The result is massive buildings that go up in amazingly short spans of time; much quicker than the former method – a slow process of brick-by-brick assembly.
Management Research Services is a leader in no-code innovation
For businesses evaluating cloud-based insurance software or web-apps to manage their company's insurance offerings, Management Research Services (MRS) is an excellent option for the same reasons listed above: our no-code insurance services platform is designed to disrupt the old way of doing things.
Our no-code interface is intuitive and customer-friendly. Clients often express satisfaction with how easy their new system is to work with.
Our implementation times are fast. Instead of months, we have tailored systems for clients in weeks and sometimes just days. Once running, the system is as efficient as any option in the industry. Underwriting decisions are made in moments and at the point of sale.
The MRS approach and system is cost-effective; we save companies money. Aside from the cost-savings of never having to hire a programmer, ongoing maintenance expenses are minimal. The cloud-based approach means our clients spend less on purchasing and maintaining local storage and hardware.
See for yourself; find out why the no-code revolution is the hottest trend in the tech world and learn how the MRS system can help your business. Contact the staff at MRS to learn about trying a demo of our latest products. We are ready to put our cloud-based solutions to work for you. Request a demo here, or email us at: sales@mrsreps.com.