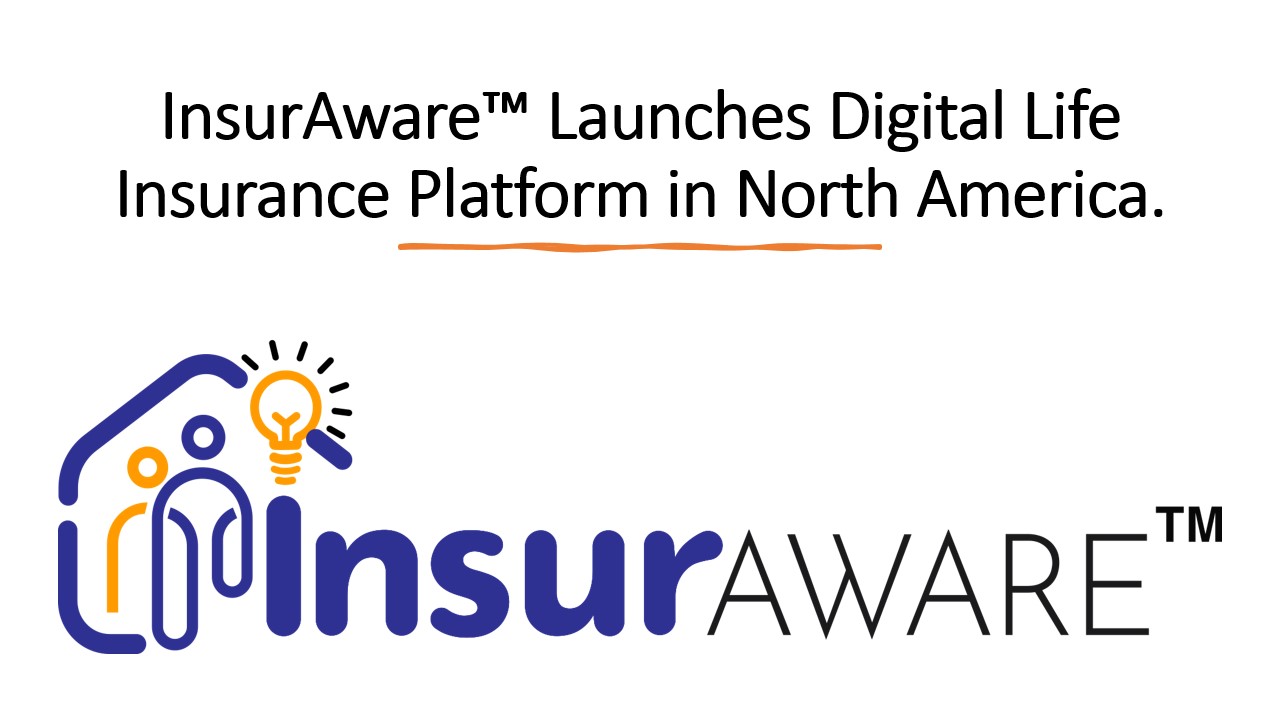 InsurAware™ Launches Digital Life Insurance Platform in North America.
14 July 2021
InsurAware™ (insuraware.com) launches its digital life insurance platform in North America designed to increase awareness and access to fast, easy, and transparent risk transfer and annuity solutions.
Industry studies consistently find that over 100 million adults in the United States lack adequate life insurance coverage. Yet, two-thirds of adults surveyed indicated that they would purchase life insurance if asked. Co-founder and Chief Executive Officer Michael Cox commented, "This is a very compelling statistic and is one we are focused on changing. Our charge is both social impact and leading the insurance industry responsibly into the digital & AI age to drive awareness to the need for life insurance.
The lack of risk transfer solutions is directly correlated to generational poverty, not just here in the United States but worldwide. Unfortunately, those most impacted by lack of life insurance coverage do not wake up every day with the awareness or the accessibility to the risk transfer solutions needed to protect the future of their loved ones. InsurAwareTM intends to change that."
InsurAware™ combines predictive AI technology with precision marketing to identify consumers most likely to purchase life insurance in the immediate future and provides prescriptive and relevant solutions digitally. Co-founder and Chief Technology Officer, Dr. Rajesh Krishnan commented, "InsurAware™ is bringing great technical expertise through our partnership with Qburst (qburst.com) and merging those with the industry expertise of our leadership team to bring flexible and cutting-edge solutions to the industry that is ready for a change"
InsurAware™ delivers fast, easy, and transparent risk transfer and annuity solutions digitally to consumers around the globe. Their digital distribution platform allows for seamless integration with banks, financial institutions, and affinity partners and is designed with agility and flexibility to accommodate multiple solutions, distribution channels and branding alternatives. InsurAware™ offers a suite of financial tools with lead generation, lead nurturing, digital marketing, and fulfillment capabilities providing customers with an eloquent digital experience.
Co-founder and Chief Revenue Officer Patrick Bowen, CLU, remarked, "InsurAware™ is meeting consumers at the right time, in the right place, with the right product solution. We offer a complete digital customer experience that can take a client from quote to issue in 10 minutes as well as a choice of traditional carriers with proven back-end solutions through the Insurance Fulfillment Center."
Customers can get a quote from various carriers in less than 3 minutes by visiting insuraware.com