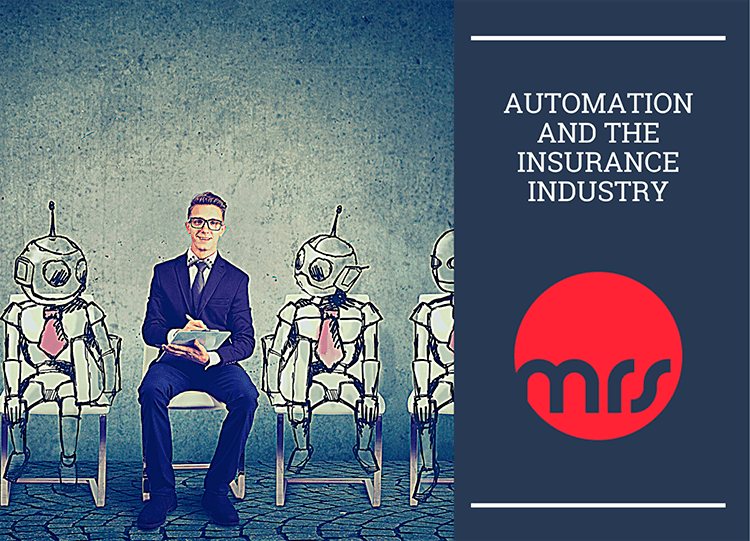 Automation and the Insurance Industry
5 January 2022
Insurance was long considered a paper-laden, unchangeable dinosaur of an industry. More recently, the wheels of automation have stirred disruption across the landscape. Most of the changes fall into two categories:
1)     Automation restructures staffing needs.
By definition, automation reduces the need for human intervention. Many of the repetitive tasks that insurance work-flows create are easily replaced through automation. Moving away from manual processes creates less administrative work and creates added IT work.
2)    Automation can offer a better customer experience.
Time-consuming aspects of each customer's interaction can be done in the background in less time and for less money. Less focus will be placed on the agent-client relationship; ease of use and value become paramount. Improved customer experience will be the defining competitive race between the insurers of tomorrow.
Ideas that once seemed Orwellian are now a foregone conclusion playing out before us. Popular areas where automation is used by insurers are:
Claims Processing
Processing a claim can be unpleasant for insurer and customer alike – high stakes with data to gather and analyze from multiple sources. Clients may grow impatient while agents sort through the layers of documentation required to reach a decision or possible settlement.
Automated claims processing standardizes the intake and organizes tasks into those which can be automated versus ones that require human expertise. Human errors disappear, lead times shrink. Modern automated claims processing can reduce manual work by 80% and cut the amount of time to process claims by half.
Policy Management
Policy issuance and updated terms are great examples of process-driven, labor-intensive tasks that used to consume countless man hours. Today, customers are adept at managing aspects of their accounts through self-service portals. Imagine changing a customer's address in ten different places within the system manually – this was commonplace ten years ago, but unheard of today. Repetitive, systematic tasks are no longer a burden.
Regulatory Compliance
Financial services and insurance are two industries that have benefited the most from automation, as both are regulated heavily and with notable complexity. Compliance with regulations is paramount, though navigating the rules across regulatory bodies and geographical boundaries is beyond the limits of the human brain.
Enter automation. There's nothing to memorize, look up, or cross reference; the system knows the rules and how to work within them. Staying compliant with applicable federal and state laws shifts to a background concern.
Underwriting
Underwriting involves using data to make decisions about risk and rates. Standardized records and forms open the door to algorithmic decision-making. Data required to make underwriting decisions is gathered and analyzed in seconds, with accuracy and precision previously unthought of. The guesswork has been removed; the decisions have already been made.
MRS provides industry-leading automation technology.
For nearly 35 years, Management Research Services (MRS) has been at the forefront of technology changes that help insurers stay competitive. Today, that means embracing automation. The MRS no-code insurance services platform offers industry-leading technology that will streamline your processes by harnessing the full power of automation.
Our industry-leading technology is used by partners in the life, health, and annuity industries. We work with enterprises of all sizes to adopt automation in ways that transform their businesses. Our no-code insurance services platform or e-app eliminates the need for expensive programming while offering the most efficient technology available in today's marketplace.
Contact MRS for more information on how automation can transform your business.