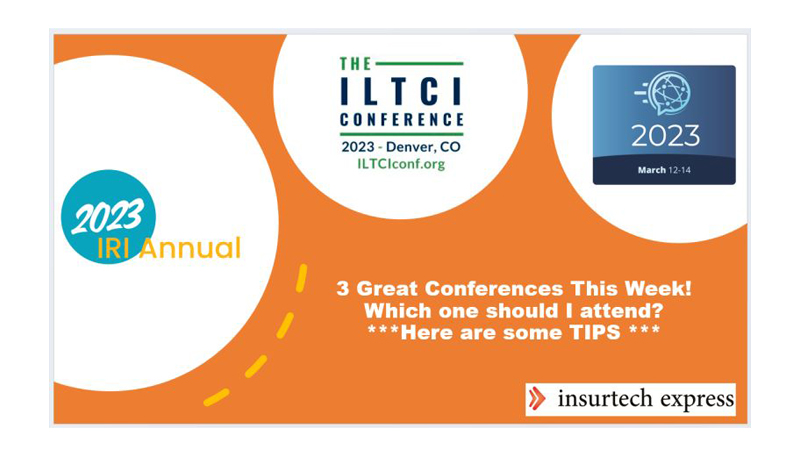 3 Great Conference This Week! Wich One Should I Attend? Here Are Some Tips.
By - 16 March 2023
As most of you know, I just returned from Las Vegas as a Gold Sponsor/Exhibitor at the iPipeline Connections Conference. The conference was great! Also this week is the Insured Retirement Institute (IRI) Annual Conference and the ILTCI – The Intercompany Long Term Care Insurance Conference. Many of my friends and colleagues asked me if I would be attending these 2 other conferences. I really wish I could but all 3 events are happening this week. Larger companies have the budget and resources to divide and conquer so that they have a presence at multiple conferences at the same time. Smaller companies like mine don't have that luxury.
The question is how do you decide which one to attend? In my case, I already had committed to iPipeline first. Last year I was asked to speak at iLTCI and had been active in the conference since my Genworth days. IRI is a key conference for Annuities especially for the Financial Institutional Channel. Both conferences will be on my list for next year to attend. Unfortunately there are some other great conferences this year that also overlap and I have to figure out how to navigate each situation. I am committed to at least 15 conferences in 2023.
VISIT INSURTECHEXPRESS.COM TO SEE ALL INDUSTRY KEY EVENTS.
Below are some TIPS:
1. Attendees: This is probably the key decision maker. Do you have current clients and potential future clients attending the conference? Try to find a list from this year or last year. Companies, Names, and Titles are critical.
2. Sponsorship/Exhibiting: This is the obvious one. If you already made the financial commitment, then you don't want to lose your investment.
3. Cost and Discounts: Your marketing budget factors in which conferences you would prioritize. Like everything else registration fees and travel costs are going up. If you are a speaker or panelist, you typically can get a discount or complimentary registration. Also if you register early the registration fees and hotel lodging are much less. And marketing partners like my company, InsurTech Express offer discounts as well to help promote the conference.
4. Geography: If both conferences that overlap the same week are in a reasonable distance from each other, then it may be worth attending both conferences. You will miss some of the event but have the opportunity to see prospective and current clients. This includes same city, same state, or within driving or 1-2 hour flight distance.
5. Competitive Intel: Last on my list is the fact that if your competitors are exhibiting or attending a conference, then it may be necessary to have a presence and at the same time capture competitive intel to help your overall business.