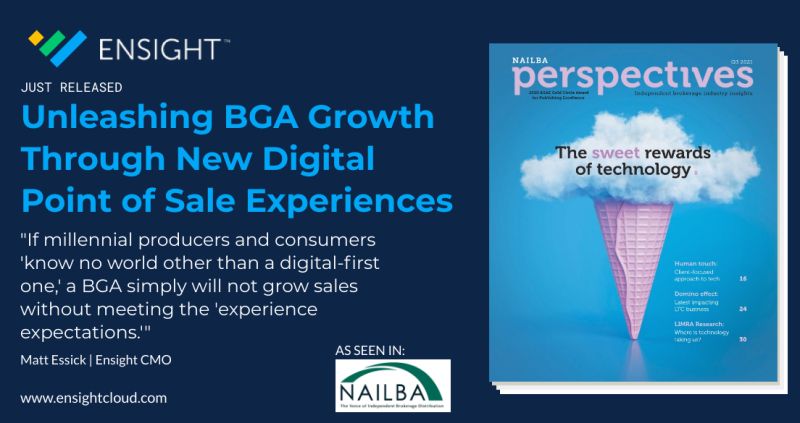 Unleashing BGA Growth Through New Digital Point of Sale Experiences
30 August 2021
Consumers expect interactive experiences that deliver engagement, supporting interactive play and learning.
Matt Essick
NAILBA Perspectives Q3 2021
We are now several years down the road into the broad Fintech transformation era.
The scale of the digital shift only continues to grow. Indeed, over $44 billion was spent on Fintech in 2020 alone according to Finextra[1].
There is no doubt that insurtech and fintech platforms are now inspiring more financial advisors and consumers to consider and adopt life insurance. New online digital distributors – such as HavenLife™, Ladder™, and Ethos Life™ – deliver experiences that help more and more middle-market consumers quickly and easily purchase term life insurance. So much so that Ethos Life's tagline is "Life insurance made easy."
The same growth opportunity exists for the BGA community if they direct their focus towards adopting and delivering new digital experiences where it matters most, at the Point-of-Sale (PoS).
For permanent life insurance, annuities, and long-term care, new easy-to-understand, visually intuitive digital experiences can help make these products more accessible and adoptable to a wider range of agents, financial advisors, and consumers.
A bright future is on the horizon.
New digital sales experiences will drive greater adoption in new segments and FAs
Transforming the digital sales and marketing experience of the permanent life product suite (as well as hybrid LTC and annuities) may ignite the spark to returning the sector to strong growth in the years ahead.
Why?
Let's look at a few key market opportunity growth trends now in play which underpin this emerging landscape, if US life and annuity distribution shift with the times:
A complete shift by financial advisors to digital planning and product experiences
Millennials now ageing up to 42 and entering prime retirement planning years
New agents (Millennials, GenZ) looking to learn and sell product on digital platforms
The emergence of field-oriented sales enablement platforms with "producer stickiness"
The scale of fintech and digital platform innovation in the financial advisor space is staggering. Over 200 digital financial planning, analytics and practice marketing platforms now support US financial advisors to transform and run their business and client engagements in the digital age.
This trend has been underway for over a decade – and, to maintain and grow the scale of your financial advisor producer base and policy sales, delivery of a digital experience is a critical success factor.
Don't plan on supporting today's financial advisor with only the traditional 45-page PDF illustrations. Engage with financial advisors in the medium of their choice – a digital, interactive, and easy-to-understand sales platform experience.
Second, consider that tomorrow's Millennial producers and consumers are the first truly "digital native" generation.
Norton defined a "digital native" generation as –
"Digital natives know no world other than a digital-first one… To digital natives, adapting to the evolution of technology is inherent."[2]
Today's millennial producer looks for digital sales enablement platforms, not PDFs, PowerPoints and brochures.
Both GenX (up to 57 years old) and Millennial consumers expect the same digital financial product experience they receive with their 401K plans and financial planning investment portals and apps. These consumers expect interactive experiences that deliver engagement, supporting interactive "play" and "learning".
If millennial producers and consumers "know no world other than a digital-first one", a BGA simply will not grow sales without meeting the "experience expectations".
A sector-wide shift to digital, visual storytelling is underway
Today, the life insurance sector is rapidly making the shift to close the digital experience gap in this regard.
Alongside Ensight™, there is a new drive to more clearly articulate the permanent life insurance value proposition through visual story-telling – with the objective to help transform the advisor-consumer discussion.
Leading life insurance carriers are now using "design thinking" to recraft the traditional look and feel of the permanent life illustration itself, as well as incorporating digital tactics, such as hot links to product content.
Now more than ever it is critical to simplify the story of permanent life insurance, its living benefits, risks and costs, so any consumer can understand the broad fundamentals of the policy. Why? Because we now operate in an economy where consumers increasingly expect to "self-educate" as part of any financial decision-making process.
Indeed, more and more consumers self-educate to perform their own medical diagnosis or conduct background research before a doctor's visit using websites such as WebMD™.
Many leading BGAs and distributors have already shifted to incorporating interactive visualization of life insurance policy performance, charges / fees and additional story-telling components.
There is also growing recognition of a principle that we have known for a very long time – "interactive learning outperforms passive learning". It is why children use highly interactive software and tools such as ChromeBooks in the classroom. It is why the Socratic method has been used in law schools for over a hundred years.
It is promising news for the sector that the leading life insurance carriers and distributors are now actively choosing to deploy this new "language of financial services".
So, what digital sales enablement capabilities should a BGA provide?
What digital experience & producer enablement capabilities to look for
The sector is making tremendous progress in the eApp and accelerated underwriting areas of the overall policy experience.
But unless more FPs are willing to sell life, annuities and LTC, and more consumers are willing to buy these products because of better product understanding, we simply will not return to a long-term growth trajectory.
Here are just a few core sales enablement capabilities that BGAs should consider in their field technology plans and producer services:  
Interactive play – enabling producers to engage with policies visually and dynamically
Digital prospecting experiences – supporting producer outreach and client discussions
A revamped digital "sales concept" capability – completely digital and configurable
Data insight into producer digital activities at the point of sale
A significant long-term market opportunity is in play to reignite growth. And new technology is here to close the gap to financial professional and consumer expectations, broader adoption and brighter future.
As the old adage says, "experience is everything".