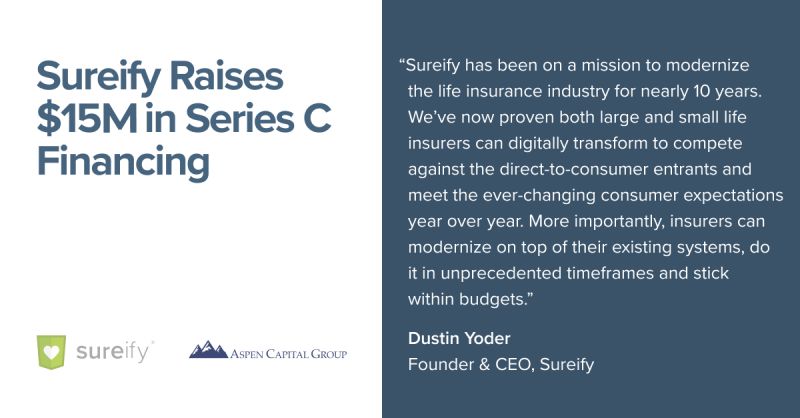 SUREIFY RAISES $15M IN SERIES C FINANCING
28 September 2021
Aspen Capital Group funding reinforces insurtech leader's role in strengthening traditional life carriers for the 21st century
By Lori Zinaich | September 28, 2021
SAN JOSÈ, CA – Sureify, a leading digital insurance platform designed to modernize the life insurance and annuity industry, today announced a $15M Series C fundraise led by Aspen Capital Group with participation from existing investors.
As digital transformation envelops the world, taking over businesses from banking to ride sharing to shopping, even traditional industries like life insurance find themselves conforming to this new paradigm. Much attention is being given to the relatively new direct-to-consumer model, with platforms like Ladder Life, Haven Life, Ethos, Bestow, and Fabric taking up increasing space in the industry. However, legacy insurers are firing back with help from insurtech partners.
"Sureify has been on a mission to modernize the life insurance industry for nearly 10 years," CEO Dustin Yoder explained. "We've now proven both large and small life insurers can digitally transform to compete against the direct-to-consumer entrants and meet the ever-changing consumer expectations year over year. More importantly, insurers can modernize on top of their existing systems, do it in unprecedented timeframes and stick within budgets. There are no longer questions about if traditional insurers can digitally transform sales, service or engagement. The only real question is when?