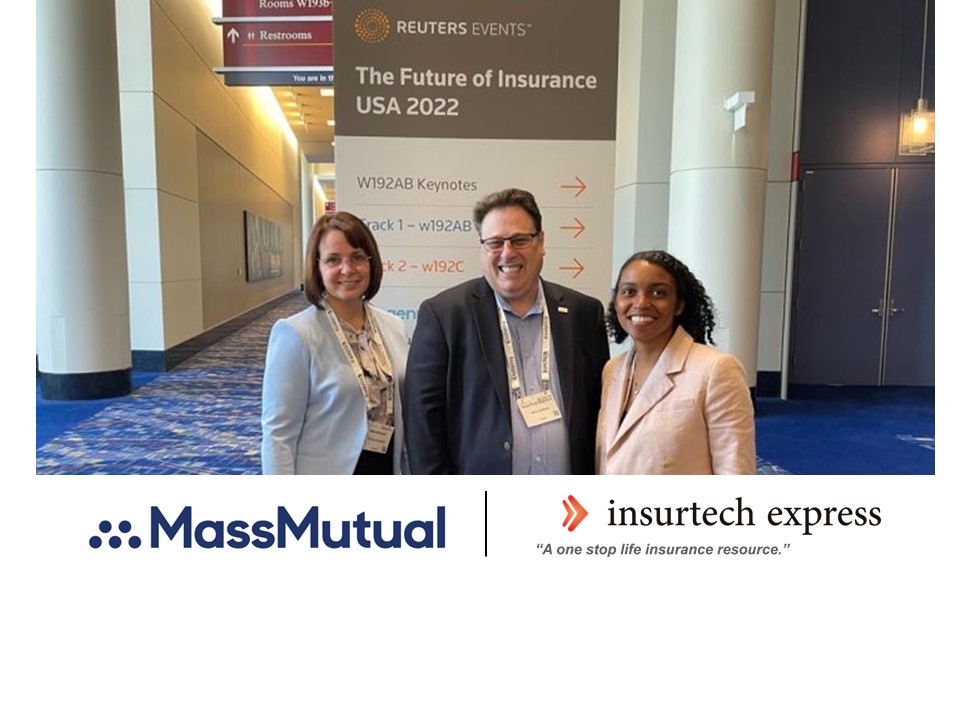 Interview with Keia Cole, Head of Digital Experience at MassMutual
11 July 2022
By Ken Leibow, CEO of InsurTech Express
I had the opportunity to attend the Future of Insurance 2022 USA Event hosted by Reuters in the McCormick Center in Chicago June 14-15. There were some powerful speakers presenting and discussing the current state and future of insurtech. I was fortunate to schedule an interview with Keia Cole, Head of Digital Experience at MassMutual after her panel session on meeting customers where they want to be met.
Hi Keia, Thank you for taking the time for this interview. Let's jump right into it. How long have you been with MassMutual?
– 5 years
Where are you based?
– I'm based in New York City.
So you're working remote, correct? Or do they have an office there?
– We have an office in New York that I go into regularly, but our company employs a hybrid model, so I also work at home.
Tell me a little bit about what your responsibilities are and then let's go into some of your latest projects, that you're aloud to talk about.
– Great! I lead design, engineering, and product management for our digital products across web, mobile and voice. My organization is responsible for driving a modern experience for costumers, financial professionals, and employees.
For which lines of business and what type of insurance products?
– We support the full digital experience, but spend a lot of time on MassMutual life insurance and annuities products; MassMutual distributes through financial professional, direct, third party, and institutional channels. We get to work with each line of business.
What is one of the newer projects that you are either launching or have already launched?
– That's a great question! MassMutual recently launched a third-party distribution business, and we are working on a new experience for third party distributors that we are really excited about. It's going to be a unique portal to help them learn more about MassMutual products. We're connecting all the tools that third parties use to access MassMutual products. Our goal is to provide a singular destination for third parties who do business with us.
This is new product from the design perspective, and we did a lot of work with this new line of business to understand who they are, who their customers are, and how to design the experience with that in mind rather than replicating an existing portal.
Anything else you what to add on any other cool things you're maybe doing or maybe something you did last year, that may not be as regularly known in the industry?
– I think of our work not only in terms of big deliverables but also in terms of incremental improvements. Last year we launched and redesigned our customer dashboard to make it more modern and user-friendly; now, we are doing the same thing with the look and feel of policy details, which may insignificant, but it will pay dividends with respect to how our customers can interact with us.
Yes, that makes sense. So, we are in Chicago in the Future of Insurance Conference, you just finished being on a panel called "Meet the Customers Where They Want to be Met". Anything there that you heard that you are already doing? I heard your answers to the questions and your input, however I heard a lot of different things from the panelists not from you necessarily, like: Not one size fits all, be more agile, having the consumer to have access to a call center or an agent on demand.
– One thing that I thought was insightful during the panel is that those of us in the insurance industry talk about personas in terms of age and generation. We are not thinking as much about what people value from the companies we work for, who we are, and what we are doing in respect to sustainability as well as diversity, equity and inclusion. Customers are really thinking about their choices at a more meaningful level, and where they do business, how companies align with who they are, and what their value-systems tie together. It was a powerful reminder and discussion.
Great! thank you very much it was a pleasure to meet you.
– Thank you.