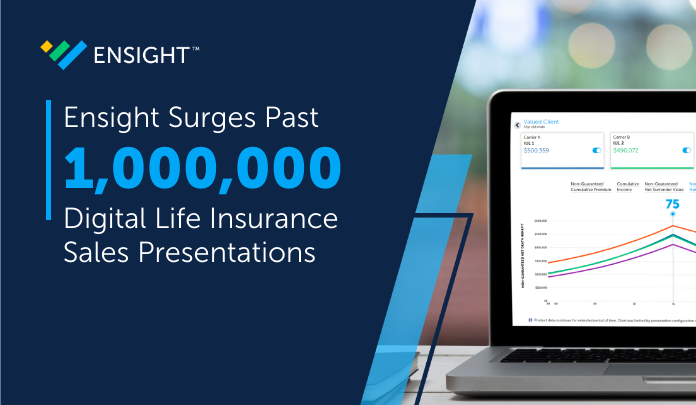 Ensight™ Surges Past One Million Digital Life Sales Presentations
3 May 2021
The company's cloud-based sales experience platform is now servicing over 250,000 financial professionals across the U.S.
SAN DIEGO, CA, March 17, 2021 the market leading life, long-term care (LTC) and annuity digital sales acceleration platform for insurance carriers, distributors and financial professionals, today announced that over one million digital sales presentations have been generated on its insurtech platform. Ensight's growth rate also continues to compound, driven by an increase in remote selling, the hybrid wholesaling transformation shift and emergence of the "digital agent" model. Today the platform works with over 250,000 financial professionals.
"Every financial services sales experience today is digital, interactive, visual and easy to understand – whether that is the leading financial planning software used by advisors, or the investment management and 401K portals now experienced by the consumer. Life, annuities and long-term care are the only remaining financial product areas out of step with today's digital experience expectations," said Bill Unrue, CEO, Ensight.
The COVID-19 pandemic has acted as a digital catalyst over the past year, as life and annuity insurance carriers and distributors have had to adapt to a virtual (remote) sales operation. This business response is also now accelerating a permanent transformation to a "hybrid wholesaling" and "digital agent" sales and service model. Wholesaling transformation, in particular, offers the sector an opportunity to achieve travel and entertainment (T&E) budgetary savings, while driving improved wholesaler productivity, more flexible advisor servicing, and better product marketing through digital education.
The Ensight sales acceleration platform was launched in 2017 to help modernize and transform the sales experience for life and annuity insurance carriers, distributors, financial professionals and consumers. Ensight simplifies the complexity of the permanent life insurance (GUL, Whole, UL / IUL, and VUL), LTC and annuity sales engagement into an intuitive, consumer-friendly digital experience. The platform leverages data visualization and rich content to create a modern interactive sales discussion, which has underpinned the rapid shift to virtual (remote) selling during the COVID-19 pandemic. Over 250,000 financial professionals, including insurance agents and advisors, now use Ensight to better explain how a permanent life insurance or annuity product works and interactively demonstrate product features, such as cash value accumulation, rates of return and policy charges.
"The life and annuity sales model is at a once-in-a-generation inflection point. From the internal sales desk and wholesaler-advisor channel to the client's point of sale experience, the entire value chain of the traditional sales model is being structurally reorganized and digitally redefined," said Nathan Jacobson, Executive Vice President (EVP), Life Insurance, Simplicity Financial Group. "Ensight is the clear market leader today, enabling modern, interactive sales presentations that simplify the wholesaler-advisor-client discussion of complex permanent life, LTC and annuity products."
To learn more about Ensight and its digital sales acceleration platform, visit www.ensightcloud.com.
About Ensight™
Ensight™ is the leading cloud-based insurance sales acceleration platform for more than 500 Life and Annuity distributors, thousands of financial professionals, as well as many of the largest North American insurance carriers. Headquartered in San Diego, California, Ensight helps drive sales growth and productivity, while addressing the entire sales lifecycle experience – from prospect to policyholder, new business to inforce.