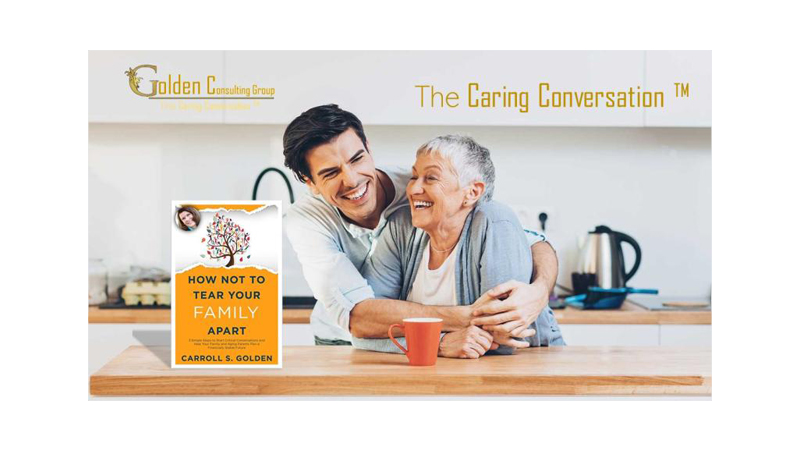 Caregiving Expert Launches Best Selling Book
20 March 2023
March 2023 –How Not to Pull Your Family Apart: A Practical Guide to Caregiving and Financial Security – written by Carroll S. Golden has just concluded a successful book launch on Amazon with the book ranked as a #1 Best Seller in multiple categories. The book is available through Amazon at www.thecaringconversation.com in kindle and paperback formats.
Who's going to be the physical, emotional, and financial caregiver in your family (no matter how you define family)? Few of us understand or are prepared for the breadth of lifestyle implications that come with that role. On the flip side, what if it's you that needs care?
Meet the Jones family, a multigenerational example of how it all works in the real world. Follow Jodi and her family as they suddenly must deal with her parents' extended care needs. Tension, guilt, and a lack of information start to impact Jodi's health, happiness, job and family, relationships. Follow along as this multigenerational family uses my three-step process to create a Care Guide, a Care Squad, and a Care Planning Team. Learn how to establish a framework to start and continue conversations, minimize tension, and gain an overview of several planning options to fit almost any budget so you're ready for tomorrow.
"Carroll weaves her vast experience in long term care insurance and personal insights into the MUST-READ book! It is jam-packed with helpful information families and professionals need to know in order to make informed decisions about aging planning." 
– Annalee Kruger, President of Care Right Inc., and author of The Invisible Patient: The Emotional, Financial, and Physical Toll on Family Caregivers
Carroll can be reached at http://www.thecaringconversation.com/ for speaking and consulting opportunities.