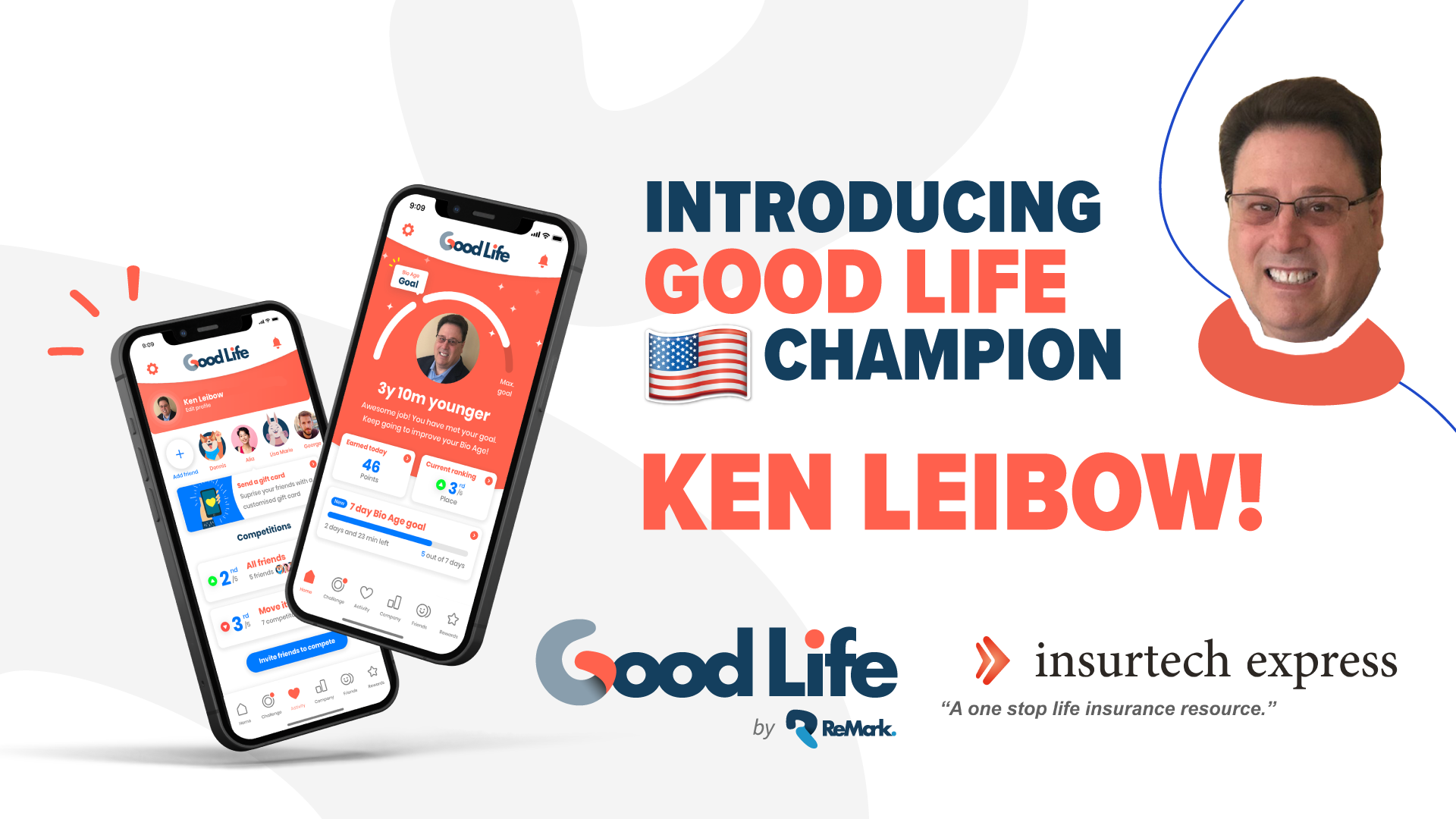 Announcing our first Good Life America Champion: Ken Leibow
15 February 2022
Ken Leibow is ReMark's first Good Life Champion. This year he'll be getting hands on with our Good Life health and wellness app. Read on to find out why he's a fan—and what the program entails.
ReMark's Good Life Champion
We're proud to announce ReMark's first-ever Good Life America Champion, Ken Leibow, Founder & CEO at InsurTech Express. As Champion, Ken will be using Good Life, ReMark's health & wellness engagement app, and documenting his own journey to stay healthy. Reflecting on how his upcoming experience will impact him both personally and professionally, Ken says: "I'm a big fan of engagement and am excited about Good Life's health metrics. Seeing my daily progress will be helpful in reaching my goals to lose weight, improve my BMI and maintain lower blood pressure."
Throughout 2022, Ken will be documenting his Good Life experience and sharing knowledge about health & wellness within the insurance industry, so expect to see social posts, blogs and more from InsurTech Express.
"I am excited that Ken will be taking us along on his Good Life journey. With Ken's positive energy, robust industry knowledge and thought leadership, he will be a great addition to our Good Life community." says Allison Broglie, Head of ReMark America.
You can keep up to date on Ken's journey by following InsurTech Express on LinkedIn.
How Good Life works
Now, more than ever consumers are seeking solutions to help proactively manage their health. Including accepting support and guidance from their insurer. It's a trend that has been evolving since pre-pandemic:
57% of Americans say the pandemic has made them more proactive about their health
79% of Americans are willing to share health data in return for insurance premium discounts
In 2019, ReMark launched Good Life, the world's first Health & Wellness app powered by SCOR's Biological Age Model (BAM). BAM was specifically designed by SCOR's actuarial team to enable individual risk profiling, and premium adjustments based on wearable data. BAM helps users quantify their fitness efforts by translating 5 key metrics (Steps, BMI, Active Calories, Resting Heart Rate and Sleep Hours) into Biological Age reductions. Simply put, the more active users are, the younger they become and the more rewards they earn.
ReMark has launched programs with 12 insurers globally, generating over 200,000 policies and $100 million in premium. Beyond helping insurers amplify their sales, Good Life has proven effective at positively influencing users' healthy behaviors: 70% of active users sync 2+ times per week and achieve a 2.2-year reduction in bio age. The Good Life application recently became available to life insurers and InsurTechs in the U.S. Learn more about how Good Life is helping the insurance industry engage policyholders through health & Wellness.
More about Ken Leibow
Ken Leibow is Founder and Chief Executive Officer at InsurTech Express, a leading InsurTech resource bringing the Life Insurance and Annuity community together online. He has more than 35 years of insurance industry experience, with an extensive background in insurance technology for distribution and back-office systems.  An expert in industry technology standards, he regularly works with leading organizations, including ACORD, LDTC, LIDMA, NAILBA, LIMRA, LOMA and IRI.
Prior to founding InsurTech Express, Leibow worked for Genworth Financial, Mutual of Omaha, and as Vice President of Operations at Diversified Underwriters Services, Inc.  He also served as Chief Operating Officer at Integrated Insurance Technologies (now owned by Oracle, Inc.), responsible for building the largest life insurance data exchange hub in the industry. Active within the industry, Ken sits on the ACLI Innovation Committee and the ACORD Life & Annuity Program Advisory Council. He's been awarded the 2020 ACORD Leadership Award, ACORD Community 50th Anniversary Award, NAILBA Chairman's Award and NAILBA's ID20 Award.