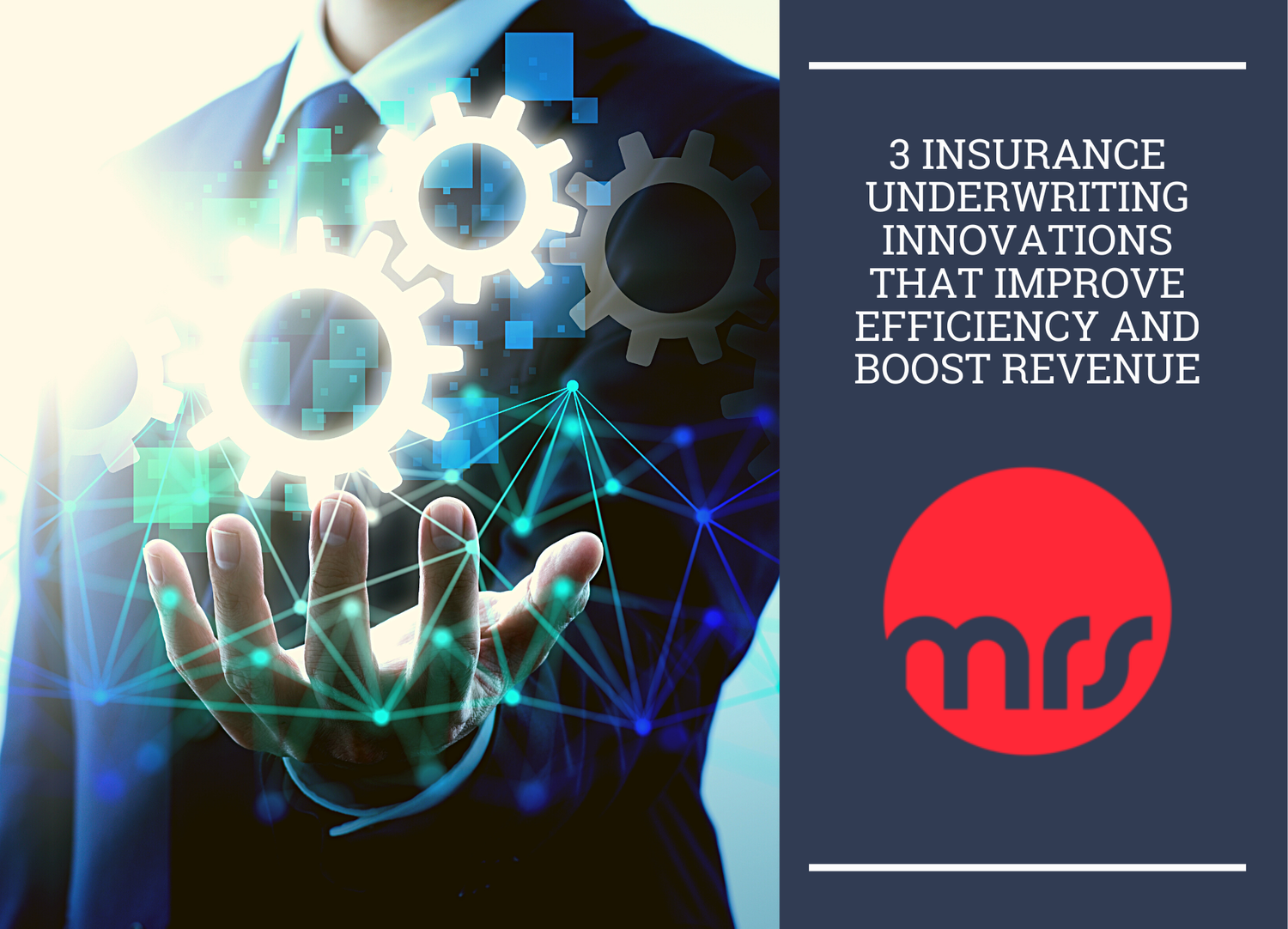 3 Insurance Underwriting Innovations that Improve Efficiency and Boost Revenue
20 April 2022
Originally published at MRS blog.
200 insurance executives weigh in on underwriting transformation.
When 200 insurance executives surveyed for Deloitte's 2021 insurance outlook weighed in on the state of the insurance industry, one thing became very clear. Underwriting innovation and accelerated digital transformation are on everyone's mind. Specifically, respondents cited increased automation, alternative data, and artificial intelligence (AI) as top priorities when it comes to modernizing the underwriting function.
In this article, we're going to take a closer look at how:
Underwriting automation simplifies processes for policyholders and underwriters.

Alternative data facilitates proactive risk prevention and automates upsells.

AI drives revenue growth and improves risk pools.
Underwriting automation simplifies processes for policyholders and underwriters.
In the past, insurance underwriting was a time-consuming, inefficient process that forced both prospective policyholders and busy underwriters to pore over paperwork. Decisions about policies were often weeks in the making, which left customers feeling frustrated and dissatisfied with the customer service experience. Meanwhile, underwriters, the subject matter experts, were tied up in repetitive, routine tasks that don't make the most of their knowledge and people skills.
Underwriting automation leverages a range of complementary technologies to accelerate more efficient end-to-end business processes while enhancing the accuracy required to evaluate risk. Consumers gain some control over the process through easy-to-understand digital portals where they can input data with a few clicks. In many cases, they receive a decision within minutes thanks to advanced machine learning algorithms capable of analyzing unstructured data for rapid, accurate insights into prospects' real risk potential.
Formerly overwhelmed underwriters can use the findings of the algorithmic underwriting process to improve their own decision-making in more difficult to parse cases that require a human touch. According to a 2020 Accenture report, leading insurers using automated underwriting "to drive human-machine collaboration are achieving returns in excess of 10 times their investment in the technology."
Alternative data facilitates proactive risk prevention and automated upsells.
Traditionally, underwriting accuracy has relied on data from insurance application collection and medical exams. Alternative data originates outside this traditional data set and hydrates the AI ecosystem with enriched consumer information. Familiar examples of alterative data sources include:
·         Geolocation,
·         Electronic health records (EHR),
·         Wearable devices and other Internet of Things (IoT) sensors,
·         Motor vehicle records,
·         Rx records,
·         Credit history,
·         Website usage,
·         Health trackers and other mobile app analytics,
·         Online browsing activity, and
·         Product reviews.
These data sources offer insurance companies novel insights into the underwriting process as well as real time revelations about customer expectations, pain points, risks, and preferences. Alternative data sources even provide the potential for proactive risk prevention and automated upsells as well as smarter claims assessment and fraud detection.
AI equips insurance carriers to provide hyper-relevant products that drive revenue growth and reduce risk.
In an AI ecosystem such as a customized underwriting platform, AI models apply multivariate rules to rapidly analyze voluminous data points – many from alternative data sources – and their relationship to risk. This incredibly efficient system equips insurance carriers to create highly profitable, hyper-relevant products personalized at a one-to-one basis in real time. Furthermore, predictive analysis of data sources enables providers to recommend insurance products before customers realize they need them, driving revenue while also improving risk pools through enhanced assessment of acceptable and adverse risk.
Are underwriting innovation and accelerated digital transformation on your mind?
MRS offers no-code insurance underwriting solutions to create more efficient and profitable business processes while enhancing the customer experience. From insurance application collection to claims processing automation, our proprietary platform customizes solutions to meet your specific needs. See how we can streamline your insurance operations. Request a demo today.